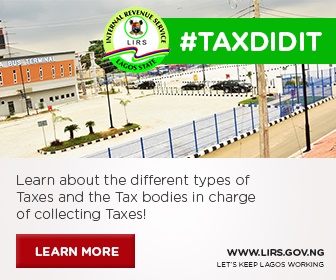 Lagos as you know it Dear Potential taxpayers is a concrete jungle where dreams are made of and kept alive.
Fortunately, the Lagos mega city dream has stayed alive and it's not without the tax of our dear Lagosians. Lagos is transforming daily from new infrastructures to lighter traffic to a beautiful and fresh looking Lagos.
Businesses now boom and more opportunities arise every day. More can be done…
Sequel to the #Taxdidit campaign, this new campaign will enlighten Lagosians about the Types of Taxes available to pay. It will also shed more light on Laws guiding the collection of taxes. Many eligible taxpayers are not aware of the current law guiding the taxation under the law, Federal and States' tax boards are empowered to identify persons living in or earning income from Nigeria who are required to pay tax, and to assess incomes and tax their incomes using specified guidelines and rules.
This campaign will also educate and engage Lagosians on the different taxation bodies responsible for the collection of these taxes.
Yes, it's not just about collection of tax and the types collected. The #Taxdidit Campaign is also about informing every Potential Taxpayer about the type of tax that they are supposed to pay.
In the Last campaign #Taxdidit you saw what taxes paid by eligible taxpayers do for Lagos state and how it affects the communities near you, schools, and families alike.
For the next couple of weeks, we'll be highlighting the many benefits of paying taxes with mini webisodes that showcase the effects of paying taxes diligently. Use the hashtag #Taxdidit to be part of this great Lagos dream and join the conversation. Pay your taxes.
For more information go to www.lirs.gov.ng