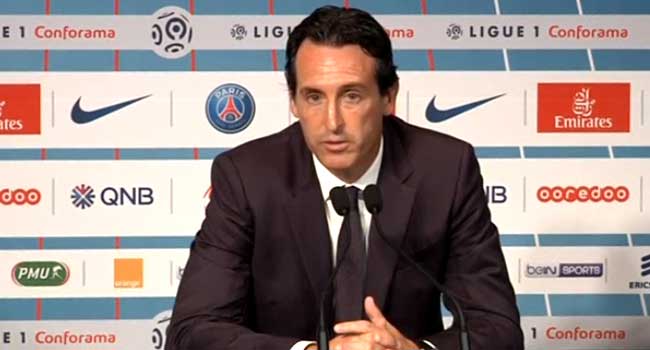 Coach Unai Emery is optimistic that star striker Neymar will help boost Paris St Germain (PSG) to the highest level of football.


The player, whose 222 million euros ($261.32 million) signing from Barcelona doubled the world-record transfer fee, was prevented from making his debut in the first game of the new season after his registration went through too late.
Nevertheless, he was presented to a delirious crowd at the Parc des Princes ground in Paris on Saturday before a game which saw them beat Amiens 2-0.
"Without Neymar, PSG is a great club but with Neymar it's a bit better, a bit greater and also, there's the way we adapt to a player like him. Also for the others who are great players, we can improve, we can become greater and it's also true that for the enthusiasm of the supporters, the context is better, it's greater," the coach said.
Neymar // photo source: en.psg.fr
Neymar joined the Ligue 1 side on a five-year contract from Barcelona on Thursday last week after PSG met the cost of the buyout clause in his contract.
PSG believe the 25-year-old would help them challenge for this year's Champions League title.
"I think that we can see that there's ambition on both sides. On one side PSG wants to get better and it's true that Neymar's arrival is a step towards that and on the other side, Neymar is taking a bet on PSG because he wants to get better with PSG.
"What's the future? Becoming a bigger club, having more influence than what we already have and being able to compete at a level which would enable us to win more important titles such as the Champions League and the recognition of a player like Neymar who is already a player at the highest level," Emery added